Death Cab For Cutie
-
Narrow Stairs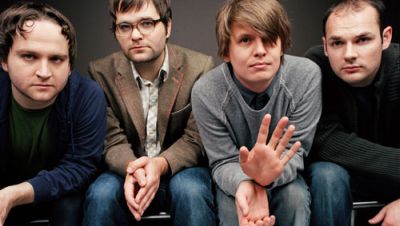 My
reaction
to 2005's
Plans
hasn't softened much over time. My opinion of the band never changed, especially after
seeing them
, but my disappointment in
Plans
remains clear. It's a toothless move towards the adult-alternative Starbucks/
Grey's Anatomy
crowd -- a crowd that would have come to the band on their own anyway -- by a band that knows better. Despite having come to enjoy the album quite a lot,
Plans
still stands out as the weak link in an otherwise outstanding alt-rock catalog.
Luckily, everyone's allowed a mulligan. They got it right this time. Apparently recognizing the sore-thumb softness of
Plans
,
Death Cab
have reacted by making an album much more in their idiom, placing a premium on spaciousness and the sensation of instruments being strained to their breaking points. The end result is far closer to what one expects from a
Death Cab
album. We may not get much in the way of uniqueness or originalilty within the band's catalog, nor anything that places
Narrow Stairs
firmly amongst its classic predecessors, but fans of the band will be hard-pressed to hold this record in disdain. The "major label" finger-pointing levied at
Plans
holds no water here.
Much as
Modest Mouse
's last release,
We Were Dead Before The Ship Even Sank
, tipped its cap to several points in the band's catalog, likewise does
Narrow Stairs
remind us of
We Have The Facts
("Cath..." and "Talking Bird"),
Transatlanticism
("Bixby Canyon Bridge"),
The Photo Album
("Long Division"), and even
Plans
("I Will Possess Your Heart") throughout. With all those shout-outs to past success, the album as a whole isn't all that cohesive. And there are plenty of pleasant-but-forgettable tunes like "Grapevine Fires." But it's a nice reflection of the band and its capabilities.
What's remarkable to me is that they've done this without being blatant about it, without the sense of desperation that one can read into something like
R.E.M.
's
Accelerate
, where they're practically screaming to us, "hey, remember when we used to sound like this? Come back!!!"
Narrow Stairs
plays more like "this is what we sound like." It's no standalone masterpiece, but it stands as proof that
Death Cab
haven't lost their fastball.