Tuesday, September 23, 2008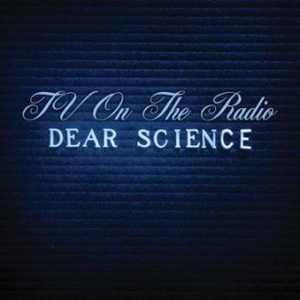 TV On The Radio
Dear Science,
The comma-laden
Dear Science,
is a surprisingly positive and immediate effort from a band known primarily for a distinctively brooding sound that is typically described as post-apocalyptic. While each song on
Return To Cookie Mountain
, their 2006 breakthrough, is shrouded in a unique fuzz that inspires visions of broken machinery and rust, the entirety of their follow-up is shiny, clean, and, most shockingly, a lot of fun. If their debut
Desperate Youth, Blood Thirsty Babes
was the apocalypse, and
Cookie Mountain
was the first sprout from beneath the rubble, then
Dear Science,
is the party.
That new brightness is a double-edged sword. The primary source of fun with
Cookie Mountain
, and to a lesser extent
Desperate Youth
, is in the discovery of musicality in the untraditional elements used to build not just atmosphere ("Playhouses," "Tonight," "Don't Love You") but front-and-center hooks ("I Was A Lover"). That aforementioned distortion-heavy signature sound of theirs is gone, replaced by drum machines, funky guitar lines, clean reverberations, and (gasp) hand-clapping. It's not really a better-vs-worse thing... one part of me had been looking forward to hearing what kind of crazy shit they'd come up with next, and the other part is just digging the new hotness.
If there is a clear disadvantage, it's in the smaller emotional punch
Dear Science,
packs. Their biggest songs, "Wolf Like Me" off
Cookie Mountain
and "Staring At The Sun" off
Desperate Youth
, are so strong because they're so immediate, urgent, and terrifying on the surface. The best work on
Dear Science,
doesn't carry the same rage or spite... by contrast, it's sleek and composed. More intimate, maybe, but not as effective in stirring up a deep response.
But at the same time, that best work is really excellent. Their mastery of rhythm is on full display, particularly on the faux-rap intro to "Dancing Choose" and the faux-African horns of "Red Dress" (contributed by, er, non-faux Afrobeat band
Antibalas
). "Crying" is slowly becoming a favorite, its choruses becoming increasingly thick with horns and synths on top of the main guitar riff. "DLZ" has a heavy, almost Zeppelin-ish stomp. "Lover's Day" is a strong, call-to-arms closer that leaves you with the kind of explosion that every album should end with.
Even their filler is better than ever, far superior to that of
Cookie Mountain
and
Desperate Youth
. "Love Dog" and "Family Tree" aren't as deep or unique as "Dirtywhirl" or "Let The Devil In," for example, but they work a whole lot better, both as complements to the stronger tracks and on their own.
When I
last wrote
about
Cookie Mountain
, I suggested that
TVOTR
was capable of more. While
Dear Science,
is not quite what I had in mind, and while it won't Represent Something Important the way that
Return To Cookie Mountain
did, it's easily one of the top releases of the year. It stands as evidence that
TVOTR
are realizing how good they are, gaining confidence in their abilities, and relying less on sonic trickery to make compelling music.
Thursday, September 11, 2008
And now... the last of today's cleaning of the Drafts folder...
A while back, a
blog-dork exercise
made the rounds, in which the author makes a list of great albums from each year of your life. You're free to decide your own criteria and overarching theme and whatnot... just do it however.
I tried, and failed, to use a consistent metric for each selection. It's just not possible for a civilian. I haven't listened to enough music from that pre-2000 period to use quality as the only criterion. And my listening behavior as a child doesn't lend itself to a list of albums that loomed large in my consciousness...
Brothers In Arms
and
Graceland
are the first instances of that. Where I could tip my cap to what I
was
listening to, as with 1988, I did. But until 1989, when I finally acquired the buying power to collect CDs, this wasn't happening. So these albums are, for the most part, picked retrospectively. I wasn't listening to
Sheik Yerbouti
in 1979,
Appetite For Destruction
in 1987, or
Neutral Milk Hotel
in 1998.
But that's fine. This is a fair index of my musical tastes over the years where possible, and a decent reflection of my tastes going backwards. Discussion to follow...
1979 -
Fleetwood Mac
-
Tusk
/
Frank Zappa
-
Sheik Yerbouti
(tie)
1980 -
Talking Heads
-
Remain In Light
1981 -
The Police
-
Ghost In The Machine
1982 -
Dire Straits
-
Love Over Gold
1983 -
Billy Joel
-
An Innocent Man

1984 -
Weird Al Yankovic
-
In 3-D
1985 -
Dire Straits
-
Brothers In Arms
1986 -
Paul Simon
-
Graceland
1987 -
Guns N' Roses
-
Appetite For Destruction
1988 -
DJ Jazzy Jeff and the Fresh Prince
-
He's the DJ, I'm The Rapper
1989 -
Faith No More
-
The Real Thing

1990 -
They Might Be Giants
-
Flood
1991 -
Red Hot Chili Peppers
-
Blood Sugar Sex Magik
1992 -
Rage Against The Machine
-
Rage Against The Machine
1993 -
Pearl Jam
-
Vs.
1994 -
Green Day
-
Dookie
1995 -
Rancid
-
And Out Come The Wolves
1996 -
Weezer
-
Pinkerton
1997 -
The Mighty Mighty Bosstones
-
Let's Face It

1998 -
Neutral Milk Hotel
-
In The Aeroplane Over The Sea
1999 -
Blink-182
-
Enema Of The State
2000 -
The New Pornographers
-
Mass Romantic
2001 -
Ben Folds
-
Rockin' The Suburbs
2002 -
Spoon
-
Kill The Moonlight
2003 -
OutKast
-
Speakerboxxx/The Love Below
2004 -
The Killers
-
Hot Fuss
2005 -
Sufjan Stevens
-
Come On, Feel The Illinoise!
2006 -
The Decemberists
-
The Crane Wife
2007 -
LCD Soundsystem
-
Sound of Silver
2008 -
The Hold Steady
-
Stay Positive
[pending]
What's fascinating to me isn't so much the classic albums I couldn't include (1979's
London Calling
, for example) but the number of albums by those names that caused drastic alterations in my musical tastes and habits. Lots of big names are missing. Where's
Nirvana
? Where's
Radiohead
? Where's
Snow Patrol
? Those bands each changed the way I listen to music, and they're not represented even once. And I wanted to include
Stone Temple Pilots
, just as a big fat fuck-you to whoever says they were talentless and unoriginal. But this is how it has to go.
Nevermind
wasn't the only tought cut from 1991. That year was a near-impossible decision.
Blood Sugar Sex Magik
gets the nod over
Nevermind
and
Ten
because it showed me that sexuality could be put forward openly and aggressively without it being childish ("Sir Psycho Sexy" notwithstanding). Since I was just starting to mature, it really affected me... and corrupted my sweet, church-going, innocent mind! Thank God for that.
1979 was another toughie. It's the only tie, but I couldn't lose either
Tusk
or
Sheik Yerbouti
. And that meant leaving out
London Calling
,
The Wall
,
The Specials
,
Fear Of Music
... just far too many crimes against musical list-making.
On the other hand, my unavoidable 1985 selection disappoints me greatly.
Brothers In Arms
is possibly my least favorite
Dire Straits
album, despite the enormous footprint it left on my childhood. The work they did prior to that album was so far superior that
Brothers In Arms
really doesn't belong here, especially when I already selected
Love Over Gold
as my pick for 1982. However, 1985 is littered with a mix of good albums by great bands whose better work appears elsewhere on the list (this,
Little Creatures
,
Dare To Be Stupid, Life's Rich Pageant
) and critical classics I haven't really listened to enough to put on a list like this (
The Replacements
'
Tim,
The Smiths
' Meat is Murder
,
Kate Bush
's
Hounds of Love
). I would have been much happier if I could, in good faith, put
Tim
in this slot. It's a fantastic album that I like a lot. But it has played zero role whatsoever in my life.
1981 is the only de facto choice. I expected more. But that's not so bad, because
The Police
ought to be on here in some form. But it was one of a whopping five non-Zappa albums from 1981 in my iTunes. So it was an easy make-up call to give them. (Other four:
The Tom Tom Club
,
Van Halen
's
Fair Warning
,
Guitar Music
by
Leo Kottke
, and
The Replacements'
Sorry, Ma, Forgot To Take Out The Trash!
)
And speaking of make-up calls, I got to give one to
The Killers.
I tore apart
Hot Fuss
in my review of
Sam's Town
, and have often referred to
The Killers
as part of a progressive abstraction away from similar and better bands (i.e. "
The Killers
ripped off
Interpol
,
Interpol
ripped off
New Order
,
New Order
owes everything they had to
Ian Curtis
,
Joy Division
is overrated," etc), which I may have elucidated on the blog a long while back. However, after dozens of listens, I have completely changed my mind.
Hot Fuss
is one of the great albums of the decade. When I can't decide what to listen to on my mp3 player as I go out for the evening, I invariably select
Hot Fuss
. I can think of no bigger compliment, especially given that it's been out for four years.
2002 is kind of a weird year, too.
Kill The Moonlight
is a fantastic album, and the
Spoon
album most representative of why they're so awesome. But that gets the pick because of its lasting effect as much as anything else. There were so many albums from 2002 that I loved at the time, but don't affect me as much anymore...
The Postal Service
's
Give Up
,
Talib Kweli
's
Quality
,
Blackalicious
'
Blazing Arrow
,
Jurassic 5
's
Power In Numbers
... the list goes on. And the others that I do still feel strongly about, like the late-era
Bosstones
release
A Jacknife To A Swan
, don't hold up to the true classics from that year, like
The Flaming Lips'
Yoshimi Battles The Pink Robots
or
Bright Eyes'
Lifted...
You know what? Screw it. I'm talking too much about stuff I left off. I should just list the most egregious omissions.
1979 -
Pink Floyd
-
The Wall
1980 -
The Clash
-
London Calling

1987 -
R.E.M.
-
Document
1991 -
Nirvana
-
Nevermind
1991 -
Pearl Jam
-
Ten

1992 -
Sublime
-
40 Oz. To Freedom

1992 -
Stone Temple Pilots
-
Core

1994 -
Weezer
-
Weezer

1996 -
Less Than Jake
-
Losing Streak

1996 -
Dave Matthews Band
-
Crash

1997 -
Foo Fighters
-
The Colour And The Shape
1997 -
Radiohead
-
OK Computer
1999 -
The Roots
-
Things Fall Apart
2002 -
The Flaming Lips
-
Yoshimi Battles The Pink Robots
2003 -
Snow Patrol
-
Final Straw
2003 -
Guster
-
Keep It Together
2003 -
The New Pornographers
-
Electric Version
2004 -
Green Day
-
American Idiot
2004 -
Franz Ferdinand
-
Franz Ferdinand
2006 -
The Hold Steady
-
Boys And Girls In America

2007 -
The National
-
Boxer


I could have made a whole other list of rejects! Better stop right there, before I
do
make another list....
Tuesday, September 09, 2008
I've been thinking about this since Sarah Palin was announced. Thank goodness someone else videotaped my thoughts...