I need to get that fuckhead from
WAVVES
off the top of my precious blog. How about we allow some awesomeness to ensue? Is that something you'd be interested in?
*
Andrew W.K.
was already a made man for "Party Hard," but this GIF (old, but I only discovered it now) ought to give him a get-out-of-jail-free card for one, if not two, felony charges: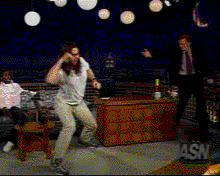 Seriously. He can commit two murders, and he'd still be in the black, morality-wise. This is so enthralling. I can't stop watching it. It's like if the Zapruder film were fun!
* French juggernauts
Phoenix
have contributed three videos to the semi-improvised and semi-acoustic Les Concerts à Emporter series. "1901" is below, while equally awesome versions of "Lisztomania," "One Time Too Many" and "Long Distance Call" are elsewhere at
La Blogothèque
.
Phoenix - 1901 - A Take Away Show from La Blogothèque on Vimeo.
There will be at least one more mention of
Phoenix
before Christmas. Assuming I actually bother with a year-end list. As I said in the comments a couple posts back, I kinda feel like abandoning the listmaking process, washing my hands of it entirely, is the ultimate tribute to this particular year.
* To reiterate a comment on my recent
Passion Pit
post, Stereogum's
list of upcoming 2010 releases
. Just a cursory glance at this list is enough to place 2010 way, WAY above 2009 as far as quality goes. It's like night and day. And that list doesn't even include May's rumored
Arcade Fire
album!
My point: given those developments, and the objective impending awesomeness of at least 8-10 of those releases, why spend more time thinking about 2009 than absolutely necessary,? Am I right? I can check out
We Were Promised Jetpacks
and call it a year.
* In fact, fuck it. We're going 2005-style on this list. Off the cuff, no thought, and very little explanation:
Best Album
1)
Passion Pit
- Manners (best front to back)
2)
Phoenix
- Wolfgang Amadeus Phoenix (genius songs, but sags in places)
3)
The Decemberists
- The Hazards of Love (most underrated)
4)
Franz Ferdinand
- Tonight (totally awesome & unfairly underrated)
5)
The Flaming Lips
- Embryonic (their best in forever)
6)
Metric
- Fantasies (fun poppy throwback)
7)
the xx
- xx (nice new-wavey debut, potential one-offs)
8)
Noisettes
- Wild Young Hearts (made them super-famous in the UK this year)
I can't even think of ten albums that I'd want to list.
Art Brut
,
A.C. Newman
,
Trail of Dead
, and
Royksopp
get honorable/partial mention.
Tegan and Sara
get an incomplete for me not listening to it yet.
Best Songs
1) "Little Secrets" by
Passion Pit
2) (tie) "Lisztomania"/"1901" by
Phoenix
3) "Daylight" by
Matt & Kim
4) "The Heartbreak Rides" by
A.C. Newman
5) "Gold Guns Girls" by
Metric
6) "Two Weeks" by
Grizzly Bear
7) "Don't Upset The Rhythm" by
Noisettes
8) "Crystalised" by
the xx
9) "Watching The Planets" by
The Flaming Lips
10) "Ulysses" by
Franz Ferdinand
And my annual
Most Awful
award should be
self-explanatory
.
That's it. That is literally how much effort I want to put into 2009. And now I'm done with it. Off to the airport; time to fly into 2010!