Last night, my hard drive died. I got memory I/O errors that prevented Windows from starting up. Worse, I didn't have any backups, so all my files were gone. That happened sometime yesterday afternoon.
Luckily, I was able to rescue my files from the grave. I followed the directions I made a Linux CD at work, booted the computer with that, and hoped that my files were buried under the wreckage, much like the two firefighters in World Trade Center. Indeed, they were, with hands raised up through the rubble in dramatic fashion. So all my stuff is now safely zipped up and burnt to a CD, and I'm on the road to recovery. (And Linux.)
But it could have just as easily gone the other way. Then I would have lost everything, and nobody would ever have seen this photo again: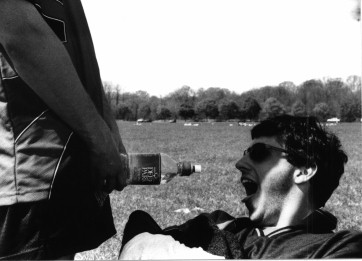 Act fast, ladies, because he's about to get married.
Aaaaanyway, just as people whose apartments burn down will urge you to get renter's insurance, I urge you to back up anything you can't afford to lose. Nothing complicated... just keep all your critical files in one place, and periodically copy that place to a CD, DVD or USB drive.
It only takes a few minutes to do, but believe me when I tell you it will save you all kinds of grief. And when your drive dies its cowardly, pants-crapping death, you won't be harmed.