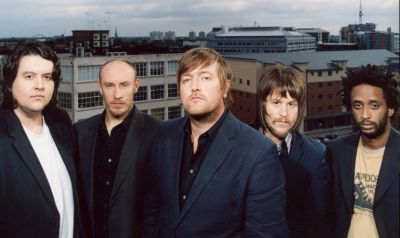 Elbow
-
The Seldom Seen Kid
Quite good. Wouldn't call it great, but a strong, full-bodied British pop album. Pretty much what you expect from
Elbow
: half the songs are stirring, ponderous anthems, and the other half are decent, super-ponderous filler. But the good stuff is worth it.
And when I say "good stuff," I mostly mean the following two songs:
"One Day Like This"
This song makes me want to get my fucking life together.
"Grounds For Divorce"
No relation to the desert-island-worthy
Wolf Parade
tune, but good enough to merit sharing the title. Kinda like the US and UK versions of
The Office
.
Elbow
, like any other huge British pop band this side of the
Arctic Monkeys
, have been branded, unfairly, as
Coldplay
imitators. They're in the same league, for sure, but in different conferences. Their rhythm is a lot more rollicking and pulsing than anything in
Chris Martin
's catalog. ("Grounds for Divorce" is a great example, but the
title track
from
Leaders of the Free World
is a better one.) And between the hard-luck lyrics and
Guy Garvey
's bottle-of-scotch/pack-of-cigarettes voice, they've got as sharp an edge as they'd ever need to maintain credibility amongst the males of the species.
Anyway, good band, good album. And their
website
is fookin awesome. Seriously, I'm impressed that they landed such a visually cool site.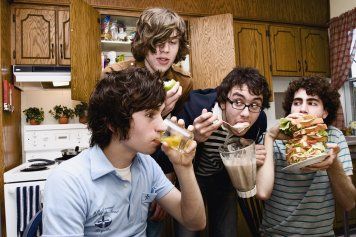 Tokyo Police Club
-
Elephant Shell
First, my reaction. Then my dismissal of the reaction.
This album definitely isn't their best work. The only memorable tracks on the album that weren't previously released (album highlight "
Your English Is Good
" was released as a single last year) are "In A Cave" and "Tessellate." Lots of wing-spreading filler.
And I hate to bitch about something like this, but given how anxious I was for a full-length album from them, a 28-minute album of 11 brief-as-usual songs doesn't really cut it. The phenomenal
A Lesson In Crime
and
Smith
EPs were about that long.
I don't care though. You can see it's not a failed attempt to recapture what they had on the two EPs. They intended to slow things down and work on song structure a little. And that's fine. It's easy to forget nowadays that bands are allowed to grow. Not everyone can pull off a masterpiece the first time out (I'm again tempted to bring up Wolf Parade). So good on them for chilling out and trying to grow a little.
And to be fair, "Tessellate" in particular is a fantastic cross between the band's post-punk sound and standard pop structure.
All in all, I'll take it, and I'm still pumped to see them tomorrow night.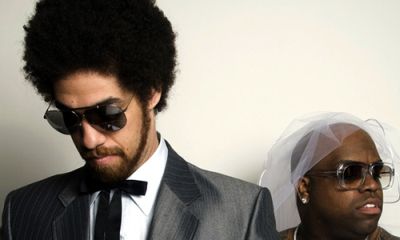 Gnarls Barkley
-
The Odd Couple
The Odd Couple
may not reach the heights of popularity that its predecessor did. But it may be a little bit better, and a lot longer-lasting than the hyper, sugar-coated
St. Elsewhere
. The production draws a little less attention to itself this time around, purposefully reappropriating that 60's Motown sound instead of just having
Cee-Lo Green
sing over
Danger Mouse
's gonzo, kitchen-sink rap beats. The new stuff come out cooler and goes down smoother. It's essentially a whole album's worth of
St. Elsewhere
's excellent "Smiley Faces." In short, they grew up and got a job.
The album's background-appropriate consistency means I don't have to dock them any points for a lack of "Crazy"-level single. That's not the idea. Besides, there's plenty of good stuff. I particularly love "Surprise," which is buoyed by a haunting,
Mamas-and-Papas
-esque backup vocal. But since they released the closer-to-gonzo "Run" as their single, here it is:
"Run" is fun, and kinda fabulous, but I'm not feeling it. I'll take "Going On," "Blind Mary," and "Surprise" first. But that's just me.
So, in the end, liked it.
Cee-Lo
's worth the price of admission on his own.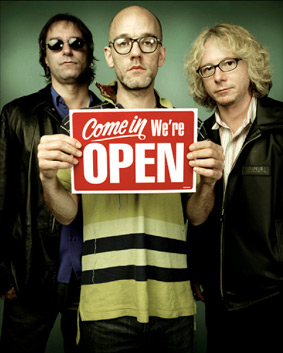 R.E.M.
-
Accelerate
The enthusiasm with which their return has been received makes me wonder whether the work of other bands in a similar position in years past (
Aerosmith
,
The Rolling Stones
, etc.) got the same warm critical reception as
Accelerate
has had. As we've seen with the reunion-driven concert industry lately, could the dearth of worthy biggest-bands-in-the-world and the struggles of the record industry in general have turned a new album from
R.E.M.
into a bigger event than it would have been otherwise?
Or, like the
Star Wars
prequels, do we all just like them so damn much that a solid album from them is a cause for some, any, form of celebration?
Accelerate
is being hailed as a return to form. This is basically true, although it's a return to their
Monster
form more than anything. But even then, this is like a version of
Monster
with the same shut-up-and-rock ethic as their pre-Warner Brothers days. It's
Document
, played in the
Monster
key.
I'm teetering perilously close to not making sense. Time for an embed.
On the flip side, while it's a lot better than anything they've done since the woefully mistreated and underappreciated
New Adventures In Hi-Fi
, it's not an album that changes your impression of them in any way. I wouldn't go so far as to call it autopilot, but this is clearly a case of them reclaiming their well-deserved stardom first, and making a musical statement second. (Again, like the
Star Wars
prequels, except without all the wrong people who say
Episode III
sucks.)
Anyway, nothing classic or great, just basically an acceptably solid and worthy addition, presuming you love the band. Basically, if you liked the pop-era
R.E.M.
, you'll really like this. If you're a jackoff with a vintage
Murmur
t-shirt who hates everything they did after the I.R.S. years... probably not so much.
Side rant... the
Reveal
/
Up
/
Around The Sun
period is generally reviled. But it should be noted that they took time off from their slide into irrelevance to record a new version of "Bad Day," seen below, for their greatest hits compilation. It is absolutely phenomenal, and one of my favorite songs of theirs of all-time. And it came during the band's perceived low point. Just saying.