subtitle: "And Why Their New Album Sucks As Much As Anything Else They've Done"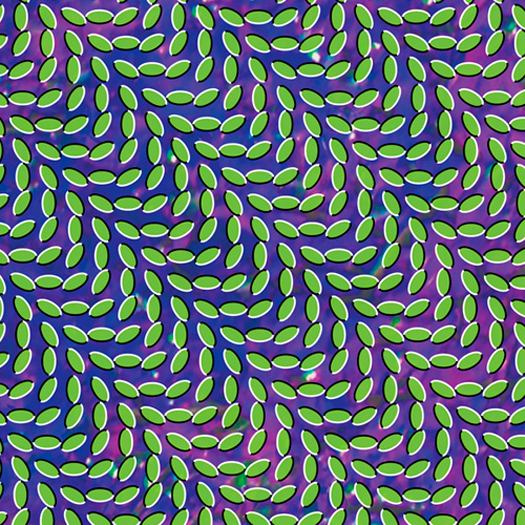 Sometimes I think the world would be a better place if I was
Robert Christgau
. Universally respected, receiving dozens of promotional CDs every week, holding the taste of American music nerds beneath my thumb, saving my audience from devolving into musical ignorami. Whenever the blogosphere echo-chambers itself into an insulated consensus on something that is plainly, clearly crap, this desire dominates my thoughts.
That has been my state of mind since the release (actually, since the online leak) of
Animal Collective
's new album,
Merriweather Post Pavilion
. I personally believe
Animal Collective
is the worst popular band on the planet. This includes the likes of
Katy Perry
,
The Fray
, and such. Those acts are treated as what they are.
Animal Collective
is very much not; they are praised to high heaven for things that they very plainly are not doing.
Of late, it has been impossible to read a music blog without encountering some sort of moronic embellishment of
AC
's place in American culture. (Actual importance: zero.) And after two solid months of this, I'm on my very last nerve.
I have taken a lot of time to think this through. My dislike for
AC
is very much a rational, cold-blooded loathe. I do not like them, Sam I Am. There are things they've done that I like, but these are very clearly an exception. They stand for everything I despise in music. I simply wish they did not exist. I wish they'd never met each other. I wish at the very least that they each had the goddamn common sense to listen to the "music" they make together and never lift a microphone again.
But more than the music itself, their place in conversation irritates me to no end. I'm flatly shocked that anyone who knows a single fucking thing about music would be ignorant enough to consider them anything more than a curiosity. They are built to appeal to a minority of weirdos, to be taken with an entire shaker of salt. You don't see people clamoring for mainstream acceptance of
Aphex Twin
, or
Squarepusher
, or other freak electronic acts.
And yet that is the tenor of any discussion when it comes to
AC
. They are extremely popular within an insular circle of highly abnormal people, located far from reality, that apparently has taken it upon themselves to speak for the rest of us. Any website worth my attention has batted around this ridiculous Colbertian meme: "
Merriweather Post Pavilion
. Great album, or greatest album?" It is a discussion for lunatics who need to leave their homes before presenting their final answers. Who died and made
Animal Collective
king?
To make clear, my objections are not based on taste. I roll my eyes when someone raves about a piece of shit band like
Grizzly Bear
or
No Age
, but poor taste in music is not the issue. Loathing aside, I will grant that there is an audience for this kind of music. This is very much the most ridiculous critical response to music I have ever witnessed.
The problem, to me, is one of defining the basic terms of the discussion. Love or hate, music has certain qualities that cannot be argued. Happy, dreary, energetic, angular, poppy... there are grey areas for sure, but for the most part these are qualities that are is-or-isn't propositions.
Animal Collective
's supporters, to a person, are using alternate definitions of terms that no rational listener could possibly use. They are describing something completely different than what you will hear. And as the last 20-30 years of politics have proven, if you refuse to define your terms the way everyone else does, you cannot have a dialogue.
Let's break down exactly where the problems lie:
Um, no. It is exactly as inaccessible as anything they've ever done. I have a very tolerant and patient ear now, and I cannot fucking bear to sit around and wait six minutes for
Animal Collective
to get to the point of their song (if they ever do). I will grant them credit for a veritable cornucopia of bits and pieces of ideas. But they are satisfied just with that, with taking one idea and repeating it ad nauseum for 7-8 minutes. Complete, yes. A complete fucking waste of time.
Well, maybe not. If I learned anything from my time with
MPP
, it's that "My Girls" is actually a pretty good song. It has glaring weaknesses, but I do see why it would have some appeal. It's the closest they come to a real song, though it still lacks anything besides its main musical idea. It's harmless.
That said... the whole song is
Panda Bear
wailing away over a chord progression (another rarity for them) that doesn't go anywhere. And this is what passes for "insanely catchy" these days? Really?
Really???
"My Girls" should be treated as what it is: a step forward, but still very
Animal Collective
. But because "My Girls" sounds like fucking "Hey Jude" compared to everything else
AC
has done, they are giving it that much credit. A guy uses echo effects on his voice, ONE technique
Brian Wilson
used with the
Beach Boys
, and suddenly they ARE the
Beach Boys
.
To me, it's like the
Chris Rock
routine where he talks about people being proud of themselves for things they're supposed to do. "I take
care
of MY kids," "I ain't never been to jail," and so forth, with Rock's reaction being "of COURSE you supposed to take care of your kids!" This apparently is how everyone thinks
Animal Collective
just reinvented music because they employed a chord change. If you expect me to give them a pat on the fucking back for that, you are barking up the wrong asshole. Their next accessible and complete musical idea will be their first.
"Gorgeous" isn't a universal word, so my objections to that are beyond the topic. It's a word that gets most critics into a hole in my book. They will pick up some faux-choral piece of shit like
Grizzly Bear
or
Joanna Newsom
and praise it for its beauty. Earth to critic: it is a fucking lo-fi indie rock record that cost $4000 to record, so no, it's not fucking beautiful. It exposes the author as someone who has never heard a symphony, or isn't caught up on his
Miles Davis
. In this context, it just makes you look stupid.
As to the suggestions of universality, I laugh in your idiotic fucking face. No,
Animal Collective
is not music for the world of your average black kid in Roxbury, now is it? Or an 85-year-old Southern socialite? Or a Tokyo schoolgirl? If the author thought for just one fucking second before typing that sentence, he would have removed it. Hackery at its finest.
Seriously. What is with the superlatives? I thought the job of the critic was to put something in perspective, not to hide the perspective up one's ass while typing away.
No, no, no. This guy compared
Animal Collective
to
Girl Talk
. That is so fucking obviously inappropriate that this dipshit should be barred from music criticism for the rest of his life. He moves on to suggest that
MPP
is a rave record by ending his review with "hand me that glow stick." Jesus Tapdancing Fucking Christ. He hit so many wrong buttons that I'm surprised he didn't use the P word.
Look, I have done my due diligence. I have studied
MPP
relentlessly, thinking that America cannot possibly be as stupid as I'd assumed. I was wrong. Hoping against hope that I had somehow missed some kind of revelatory advance in their music, I found that I had not.
MPP
is exactly the same droning, meandering, path to nowhere that their other work provides. "My Girls" is probably their best work, but it doesn't give anyone the ability to use the words that were used. None of the above quotes have any foundation in truth whatsoever.
The music being described by those quotes is
The Hold Steady
.
LCD Soundsystem
.
Cut Copy
.
Hot Chip
, maybe. Those are poppy, accessible acts. They share absolutely nothing with
Animal Collective
.
Here's our experiment. Below is a high-def embed of the aforementioned "danceable" song, "My Girls." So get on up and shake that thang!
Come on, let's see you dance to it. Go right ahead. It's danceable, right? If it doesn't look like the
Elaine Benes
dance, I'll be shocked. I want to see a wedding reception go bananas to this song. Because it's danceable, so naturally a group of regular people will dance to it, right?
See, that's what kills me. Use a better word, and I have no objection whatsoever. But if we can't agree on basic vocabulary, then we can't have a discussion. They've used a word that does not apply, but that they WISHED would apply... so it was used it anyway.
There is a baseline, control sense of these words that you have to consider before using them to describe this weirdo, hipster shit. Ignore the general sense, and you either look like a fucking idiot, or you look like you're lying. If the average person were to hear from a litany of national food critics that the bowl of corn-riddled turds he's eating is in fact a hazelnut creme brulee with a raspberry amaretto reduction, apparently he'll eventually believe it. But not me. I'm not eating one kernel of
Merriweather Post Pavilion
. It's shit. It's a big bowl of shit.
Here's the deal. The method for connecting to
Animal Collective
's super-cerebral electronica is similar to that of the more inaccessible "free jazz" artists that emerged in the early 1960s.
Ornette Coleman
is considered an important artist; in my opinion, his entire career is a pile of
nihilistic, anti-musical shit
.
Cecil Taylor
, whose
output
is far more worthy of praise, was noted in the famous
Jazz
miniseries to have encouraged his fans to "study" for his appearances; I agree 100% with
Wynton Marsalis
's contention that music should not require homework. In each sense,
Animal Collective
's blueprint for appreciation is identical to Taylor's and Coleman's. Understanding them requires a non-musical approach, an emphasis on craft over the end product, with repeat listens a concrete requirement. You put in your homework and you get something out of it. No homework, no benefit.
I personally don't care for that, but that's what it is. It's not pop, accessible, danceable, or anything even remotely fucking close to that. It's homework. It's OBVIOUSLY homework.
So obvious, in fact, that I don't think the above quotes are simply wrong or misguided. They do not simply exhibit poor taste. The language used to describe
MPP
is so woefully inaccurate that I can't see it as anything other than reflexive opinions that could be used to describe any indie band making a leap.
But there's no leap. They WANT the band to have made the leap, so they make it for them. The cart has been placed before the horse.
In other words, the reaction is intentionally dishonest and misleading. The music has been set aside, leaving the context and growth to be considered apart from their actual achievements. A nation of buffoonish critics wants to elevate a pet band of theirs to prominence without merit, to flex its muscles just to show that it can do so regardless of whether there is justification. It's widespread, willful ignorance. And it makes all of us look stupid.
After all this venting, the question remains: what makes this such a special case? Why single them out? What harm are they doing?
It's very simple.
Animal Collective
is the Evangelical Christianity of indie rock. Harmless in theory, abusive and dangerous in practice.
* Their fans are more prone to proselytizing than any other band I'm aware of. They just cannot shut their fucking yaps about how awesome
Animal Collective
is, how they're so poppy and how everyone else needs to love them. Just like the average born-again. They can't tolerate anyone who thinks otherwise, can't understand why anyone would. The rest of us, those of us in the silent majority who do, can only roll our eyes at how hopeless, how detached from reality, one must be to feel that way.
* Just as evangelical wingnuts are allowed to control political discourse in America,
Animal Collective
wingnuts are allowed to dictate the future of music. The fundamental (so to speak) flaws in their belief is never addressed, because it's a matter of not looking like you don't get it. Just like political figures would never take a bat to the evangelicals like they deserve.
* It's not the band's fault, just like the evangelicals aren't God's fault.
AC
, much to my chagrin, are just doing their thing. I don't like it, but in a vacuum, they are free to do it. The off-the-mark reception and analysis of their music is the problem. Remember, God's a cool guy. His followers are the retards, not him.
* The holy-rolling clowns who praise Jesus and act on his behalf... the guys telling me to eschew condoms, to hate Muslims, to let the FCC parent my children... do not understand the fucking Bible one bit. But they follow Jesus anyway, to make sure everyone else knows they love Jesus more than you. Likewise, those who praise
Animal Collective
don't understand the music's flaws one bit, but they want
so desperately
to get
Animal Collective
that this is what their praise sounds like.
That last item is the killer. It's a group of people trying to will their nutbag idea of reality into the mainstream, without merit, just because a lot of people on the internet say so. If internet discussion has taught us anything, it's that the silent majority cannot be won over. Just because two hundred dopes on the internet say something, it doesn't mean that anyone else gives half a shit about it.
In my heart of hearts, the release of
Merriweather Post Pavilion
is an apocalyptic event in the world of music. It has exposed all of the very worst things about the internet revolution. It gives wingnuts a voice, much like the Bush administration did. But wingnuts they are. And nobody has stood up to call a spade a spade.
So here I am. Just like those who feel the need to walk up and down the sidewalk wearing only a pair of socks and a signboard, I'm here to warn you. The end is nigh.
UPDATE
: I should reference
this
, just for clarity's sake. Having re-read Carles's post for the first time in a few weeks, the evangelism idea very clearly comes from his original observation. I'm not that clever.