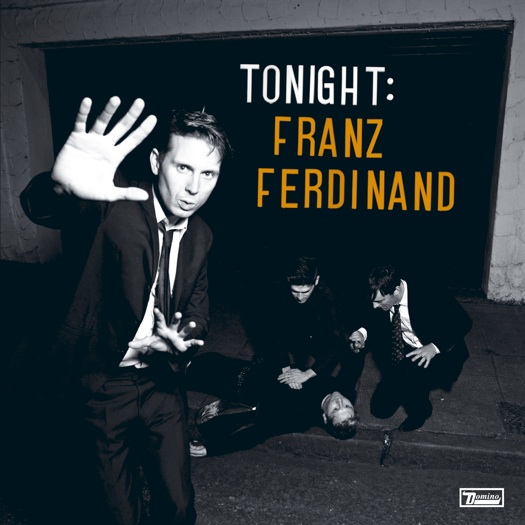 Five years after "Take Me Out" burst into the mainstream on the strength of its rough, post-punk guitars and high-hat disco beats, becoming perhaps the biggest indie-to-mainstream rock hit of the current century, it's evident that very few indie bands nowadays really, really rock. Certain explosions in popularity stand in stark contrast to the raw, in-your-face rock of
Franz Ferdinand
, the last true rockers to break out of the indie ghetto.
They've been chomping at the bit to expand their palette since "Take Me Out" made it big.
You Could Have It So Much Better
is littered with a desire to change the band's direction, although the results when they did were thoroughly lousy. ("Eleanor Put Your Boots On" is irredeemably awful.) There was much to love, but those departures really, really didn't work.
So I was understandably saddened by the rumors, two years ago, that
Franz Ferdinand
would be going heavy on the synthesizers for their follow-up. Goddammit... MORE changes. One of the few bands that really understand how guitars work, and who had as of that moment done no wrong, had announced their intention to ditch what worked for them. My
response at the time
was that it was "not good news until proven otherwise."
Tonight
is otherwise.
Turns out that
Franz Ferdinand
's signature sound works as well on keyboards as on guitars. Just as
Dear Science
proved that
TV On The Radio
's identity can be felt across lots of different sonic landscapes,
Tonight
proves as much for
Franz Ferdinand
.
Though their intention to abandon the guitar was a bit jarring, but their changeover from funky guitar to disco synths really isn't. In practice, it's more that they've made an entire album of tracks based on
You Could Have It So Much Better
standout "Outsiders." It's laced with colorful funky, disco-ish flourishes, but it's still rock.
The track ordering shrewdly integrates their departures into what we hear as the album progresses, avoiding any feeling of what could have been jarring changes. Early tracks "Ulysses" and "No You Girls" are more heavily dependent on guitar stomps. "Twilight Omens" and "Bite Hard" are the first synth-driven songs we hear, and we've been prepared by the time they arrive. By the time full-blown disco tracks "Live Alone" and "Lucid Dreams" come around, you barely notice or care. That gradual progression helps sell us on the expansion of what works for them, letting us come around slowly if need be.
This change isn't always a good thing, though. Pre-release track "Lucid Dreams" as
presented here
late last year is a rollicking, classically Franz track. The track as found on
Tonight
has been transformed and digested into a techno epic that lacks the sheer awesomeness of the leak, despite its charms. The differences evident in this one song are a microcosm of the entire changeover... you yearn wistfully for the old thing when they're mostly just doing the new thing.
But in the end, this is still an excellent, excellent pop album. After being somewhat randomly associated with
The Killers
for so long simply because their arrivals came at the same time,
Franz Ferdinand
has made the
Killers
album we've all been waiting for since
Hot Fuss
.
I give
Tonight: Franz Ferdinand
a rating of
four assassinated archdukes
out of five. Well done.