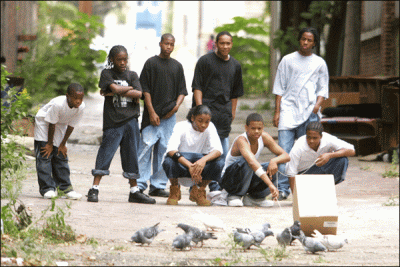 The Wire
Season 5 arrives in just
ten
days. And then the clock starts ticking on the greatest, best, most important television show ever made.
In the meantime, here's a few ways to get excited.
* Watch the
prequels
. Cute.
* Yet another extensive David Simon
interview
, this one from a year ago. But it's got some great details in there. I'm constantly amazed that Simon gives such detailed interviews. Details are the trick. Someone can read 50 interviews with Brad Pitt hoping for that one detail to drop, but Simon consistently delivers the goods. The message is always the same in each 80-page conversation you read, but there's always something new.
*
Kottke
pointed out
Heaven and Here
, a fantastically erudite blog on the show and its meanings.
The first episode premieres Sunday... which means I should have it in my On Demand folder on Monday. I cannot wait.