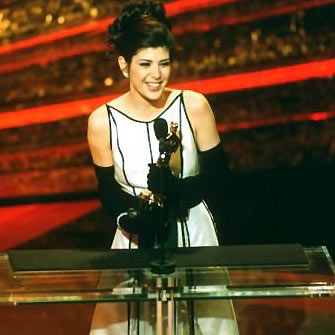 It's all well and good that I have my
best-of list
up for all to see, but let's talk about something totally unrelated to the best movies of the year: Oscar night!
Tonight is a rarity: films that actually deserve the award!
Juno
aside, and
Atonement
unseen, you've got a spate of movies that are right where they ought to be. There may be blood, but there won't be
Gladiator
or
Crash
. Thank God for that.
I don't see much in the way of surprises. The acting categories are pretty easy to predict, and it's shaping up to be a
No Country For Old Men
coronation. You've got a more deserving (
There Will Be Blood
), and a potential spoiler that could ruin everything like
Crash
did (
Juno
), but it sure looks like the
Coen Brothers
will finally be recognized by the powers that be.
I do, however, have some
notes
for the Academy:
The Diving Bell And The Butterfly
's representation in four measly categories is atrocious. Should've been a BP nominee, and should've thrown a bone to
Mathieu Amalric
in the Best Actor category. Its absence from Best Foreign Language Film is just stupid, and we have the Academy's rules for foreign language film eligibility to thank. France chose
Persepolis
as their foreign language entry, and justifiably so when one considers that
Julian Schnabel
isn't actually French, even though his film was. You can't really blame them. But the end result is that none of the five nominated films, or even
Persepolis
for that matter, will deserve the award more than
Diving Bell
. I don't mind forcing diversity on the list of nominees, but I do mind when the rules are set up in such a way that the rightful winner is nowhere to be seen.
There's an equally horrendous omission in the music category:
Jonny Greenwood
's score for
There Will Be Blood
. Like
Diving Bell
, he was never an actual candidate, ineligible for having used large portions of a previously-written score. But that's a case where the disqualification exposes a problem with the rules, not the entrant. No film this year made better use of its score than
Blood
. (Except, perhaps, the
Nick Cave
- and
Warren Ellis
-scored
The Assassination Of Jesse James By All The People Who Were Forced To Type Such A Long Goddamn Title
... which was also not nominated.
Boo this academy!
) Disqualified or not, the bottom line (as above) is that the category's best performance isn't represented. And that's a shame.
Which brings me to my ballot for the categories in which I have an opinion. I've listed the rightful winners in red, and the likely winners in blue where necessary. I've also added the unnominated rightful winner for the two categories discussed above.
ACHIEVEMENT IN MUSIC WRITTEN FOR MOTION PICTURES (ORIGINAL SCORE)
Atonement: Dario Marianelli
The Kite Runner: Alberto Iglesias
Michael Clayton: James Newton Howard
Ratatouille: Michael Giacchino
3:10 to Yuma: Marco Beltrami
There Will Be Blood: Jonny Greenwood
The Assassination of Jesse James by the Coward Robert Ford: Nick Cave, Warren Ellis
Giacchino deserved it for The Incredibles, and this would be a well-earned make-up call. Beltrami is deserving as well. But their work doesn't approach what Greenwood and Cave & Ellis accomplished, disqualification be damned.

ACHIEVEMENT IN MUSIC WRITTEN FOR MOTION PICTURES (ORIGINAL SONG)
"Falling Slowly" from Once: Glen Hansard, Marketa Irglova
"Happy Working Song" from Enchanted: Alan Menken, Stephen Schwartz
"Raise It Up" from August Rush: Jamal Joseph, Charles Mack, Tevin Thomas
"So Close" from Enchanted: Menken, Schwartz
"That's How You Know" from Enchanted: Menken, Schwartz
Yes, the Oscars are ridiculous, politically-motivated popularity contests, and not barometers of quality. But I don't see how anything else can win. The goofy Disney songs will cancel out, and I've never even HEARD of August Rush. But "Falling Slowly" weaves its way into the storytelling in exactly the same manner as "It's Hard Out Here" did in Hustle & Flow. If "Falling Slowly" loses, I give up.
BEST PERFORMANCE BY AN ACTRESS IN A LEADING ROLE
Cate Blanchett in Elizabeth: The Golden Age
Julie Christie in Away from Her
Marion Cotillard in La Vie en Rose
Laura Linney in The Savages
Ellen Page in Juno
Having only seen Juno, I'm unqualified to express an opinion in red. But The Savages unseen, I'd give it to Linney. She's a poor-but-not-that-poor man's Meryl Streep who has worked at a high level for too long to have gone unrecognized. So if I'm picking blindly, why the hell not? Besides, Christie's gonna run away with this one, so what does it matter?

BEST PERFORMANCE BY AN ACTRESS IN A SUPPORTING ROLE
Cate Blanchett in I'm Not There
Ruby Dee in American Gangster
Saoirse Ronan in Atonement
Amy Ryan in Gone Baby Gone
Tilda Swinton in Michael Clayton
Swinton is definitely deserving, and Blanchett also is from what I hear, but I go with Ryan, who elevated Gone Baby Gone from a Law & Order-level potboiler to a devastating portrait of right not being synonymous with righteous.
I'd also like to take this opportunity to note that Dee was nominated for two minutes of screen time and a slap to Denzel Washington's face. This is precisely why we need more juicy roles for women.

BEST PERFORMANCE BY AN ACTOR IN A LEADING ROLE
George Clooney in Michael Clayton
Daniel Day-Lewis in There Will Be Blood
Johnny Depp in Sweeney Todd: The Demon Barber of Fleet Street
Tommy Lee Jones in In the Valley of Elah
Viggo Mortensen in Eastern Promises
No question, no doubt, no discussion. He drinks their milkshakes. Sup sup sup sup sup.

BEST PERFORMANCE BY AN ACTOR IN A SUPPORTING ROLE
Casey Affleck in The Assassination of Jesse James by the Coward Robert Ford
Javier Bardem in No Country for Old Men
Philip Seymour Hoffman in Charlie Wilson's War
Hal Holbrook in Into the Wild
Tom Wilkinson in Michael Clayton
Ditto. Affleck gave a hell of a performance, and Wilkinson would be a fair selection as well, but nobody can outdo Anton Chigurh. Just not possible.

ACHIEVEMENT IN CINEMATOGRAPHY
The Assassination of Jesse James by the Coward Robert Ford: Roger Deakins
Atonement: Seamus McGarvey
The Diving Bell and the Butterfly: Janusz Kaminski
No Country for Old Men: Roger Deakins
There Will Be Blood: Robert Elswit
I can't speak for Atonement, but I have a hard time believing a single film on this list deserves to lose. Jesse James is the best-looking movie of the five (by a hair) but given that Diving Bell is the film that hinged on its cinematography more than any other, you have to give it to Kaminski.

BEST FOREIGN LANGUAGE FILM OF THE YEAR
Beaufort (Israel)
The Counterfeiters (Austria)
Katyn (Poland)
Mongol (Kazakhstan)
12 (Russia)
The Diving Bell and the Butterfly (France)
An absolute joke. There's no point in saying anything; Diving Bell makes it so easy to read the other books by their covers. This ensures that the deserving winner will lose this category two years in a row. (I liked The Lives Of Others a hell of a lot, but it's not Pan's Labyrinth. Not even close.)

BEST ADAPTED SCREENPLAY
Atonement: Christopher Hampton
Away from Her: Sarah Polley
The Diving Bell and the Butterfly: Ronald Harwood
No Country for Old Men: Joel Coen & Ethan Coen
There Will Be Blood: Paul Thomas Anderson
The screenplay categories can often be consolation gifts given to the wide nominees that don't end up winning anything... unless the Best Picture is nominated. So I'm guessing No Country. But as is true almost everywhere else, Diving Bell deserves it.

BEST ORIGINAL SCREENPLAY
Juno: Diablo Cody
Lars and the Real Girl: Nancy Oliver
Michael Clayton: Tony Gilroy
Ratatouille: Brad Bird, Jan Pinkava, Jim Capobianco
The Savages: Tamara Jenkins
Lars, Ratatouille and Michael Clayton are all written masterfully, and I've been a fan of Jenkins since the criminally unseen Slums of Beverly Hills. A win for any of them would be good news. A win for Cody would be an insult to what good screenwriting is about. I just hope and pray that the stripper-turned-screenwriter doesn't use her backstory and her charisma to dupe the Academy into an Oscar. (Although a win would give that pompous prick Robert McKee a heart attack. So I suppose it's not a total loss.)
ACHIEVEMENT IN DIRECTING
The Diving Bell and the Butterfly: Julian Schnabel
Juno: Jason Reitman
Michael Clayton: Tony Gilroy
No Country for Old Men: Joel Coen and Ethan Coen
There Will Be Blood: Paul Thomas Anderson
This is where my sympathies for the front-runners start to cloud things up. I'm toeing the line of giving Diving Bell all the awards that I can out of protest. But neither the Coens nor Anderson would deserve to win for Picture and then lose for director.

BEST MOTION PICTURE OF THE YEAR
Atonement
Juno
Michael Clayton
No Country for Old Men
There Will Be Blood
I'm a Blood man. I'd be pleased if it won. But not that pleased. This is the Coens' best chance yet, and Anderson will have plenty of other chances to win an Oscar before he croaks.
So now that I'm on the record, I'm off to do something important. (Read: anything besides worrying about the damn Oscars, preferably located outdoors.)