Art Brut
10.17.06 @ Black Cat
In 1,000 Words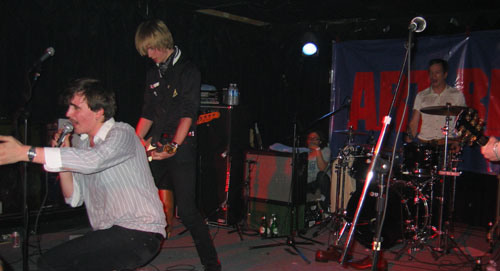 In Two Words, Or Three, Depending On Your Interpretation Of Hyphens
Shit-eating grin.
Just Review The Goddamn Concert Already
I haven't got as much to say about this show as I did about the TVOTR show. With
Art Brut,
there was not an opening of eyes. It wasn't a "blown away" situation, because I was sold on Art Brut a long time ago. I've been listening to
Bang Bang Rock And Roll
for almost two years now, and it
still
makes me laugh. The live act is more of the same... which is a good thing. My face was locked in a grin for the vast majority of the show.
That reaction is due in large part to the unbounded charisma of Eddie Argos. He is flat-out hilarious. His personality just oozes through every bit of his performance. His dry, post-modern cheek is endlessly amusing, skillfully walking the line between camp and brilliance. There's something about his voice that's just inherently goofy and enjoyable.
Despite the light sense of humor, they're more than a novelty act. Musically speaking, they are simple, skilled, and accessible. They've been touring almost non-stop for two years, and it shows. Just a really tight unit that knows those songs forwards and backwards by now. I knew Eddie would be worth the ticket price, but the band was better than I expected.
Regardless,
Art Brut
live gets four and a half Rusted Guns of Milan out of five!
Two bands opened. I wrote about
The Spinto Band
, whom I like an awful lot, a couple weeks ago. They lived up to my heightened expectations... very fun band. Also opening was
Tokyo Police Club
, who were awfully good considering that they were the opener to an opener.
TPC
was okay, but I expected complete disaster. If their music catches up to their stage energy, they could be something.